Not all present and correct
---
This article on a faction, government, organization or subgroup, is a stub and is missing information.
You can help Transformers Universe MUX by expanding it.

rest of the fiction, up-top links and maybe short descriptions, toy section needs fleshing out
The Decepticon Mini-Cassettes are a subgroup of Decepticons.
The Decepticon Mini-Cassettes (also known as Spy Cassettes, Recordicons, and the Soundwave Spy Patrol) are Decepticons who, on Earth, transform into analog audio cassettes. They can fit into Soundwave's chest compartment.
Many of these troops have communication or espionage roles. Recycling of body designs is common among them as well. Their counterparts amongst the Autobots are the Autobot Mini-Cassettes.
"
In the days of Megatron, Decepticons developed the art of espionage using cassette technology.
"

—Teletraan II, "Secret Files of Teletraan II"
Known Decepticon Mini-Cassettes
Generation 1
Shattered Glass
Fiction
Generation 1 cartoon continuity
The Transformers cartoon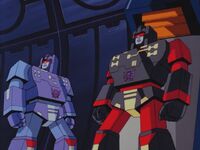 The Mini-Cassettes acted as a sort of special-missions force, under the command of their host Soundwave. Soundwave could store numerous cassettes within his chest, at times ejecting as many as four at once. The Transformers: The Movie Call of the Primitives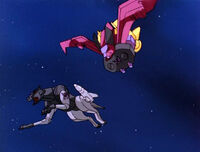 Laserbeak was frequently sent to spy on the Autobots at Autobot Headquarters, once using his cassette form to sneak in. Divide and Conquer Ravage likewise used his cassette mode to infiltrate Teletraan I and steal information about Earth's resources. More than Meets the Eye, Part 2 Rumble was used more often to destroy stuff, though all three frequently engaged in battle.
The less-seen Buzzsaw and Frenzy also appeared on occasion, usually acting in conjunction with Laserbeak and Rumble, respectively. Countdown to Extinction Atlantis, Arise! The Immobilizer
Years later, Ratbat joined the cassette forces; like Laserbeak, he specialized in spy work and reconnaissance, particularly in tight quarters inaccessible to Laserbeak. Secret Files of Teletraan II
Some time after that, Overkill and Slugfest also joined Soundwave's troops. Call of the Primitives
Notes
Foreign names
Japanese: Cassettron (カセットロン Kasettoron)
Community content is available under
CC-BY-SA
unless otherwise noted.