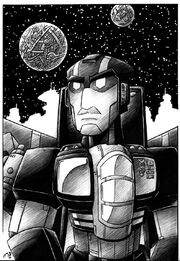 Decepticon Aerospace makes up the bulk of the Decepticon forces. It is led by Valour, who reports directly to Lord Starscream.
When Megatron was badly injured by death crystals in 2016, Starscream again assumed command of the Decepticons, and named Valour temporary head of Decepticon Aerospace.
Once Megatron recovered, Starscream became Air Commander again, and made Valour Aerospace XO.
In 2019, Megatron put Deathsaurus in charge of the Aerospace division, under Starscream.
In 2020, Valour was once again placed in charge of Decepticon Aerospace.
Rank 8 - Brigadier General
Rank 7 - Colonel
Rank 6 - Lt. Colonel - Special Team CO
6 Demonhead SQUAD LEADER (Devilcon CO)

Rank 5 - Major - Special Team XO
5 Ferak ENGINEER (Squadron X XO)
Rank 4 - Captain
Rank 3 - Staff Sergeant
3 Seawolf NAVAL ASSAULT


Rank 2 - Airmech First Class
       *   Misfire          

Rank 1 - Airmech
1 Acid Storm WARRIOR

1 Coldsnap MELEE WARRIOR
1 Deathclaw THUG
1 Deep Blue Cannibal
1 Eyegor TACTICIAN
1 Flamestrike WARRIOR
1 Hailstorm WARRIOR
1 Hotlink MECHATRONIC ENGINEER

1 Warthog GROUND ASSAULT
1 Flamestrike WARRIOR
1 Vandal DIVERSION
1 Freefall WARRIOR
1 Wrath AIR ASSAULT
1 Abyss WARRIOR
1 Skywarp WARRIOR
1 Swift Blade WARRIOR
1 Airfoil DIVERSIONARY SPECIALIST
1 Whitenoise INTERFERENCE
1 Puddlejumper COURIER
Rank 0