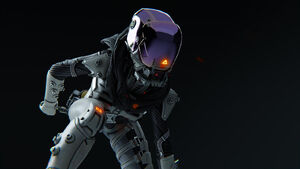 Concealer
Personal information
Real Name

Meggan Briar

Birthplace
D.O.B.

May 7, 1998

Alias(s)

Cinderella Undercover; Meggan Rachel Briar; 'Meggan Rachel'

Military information
Service branch

US Army

Primary MOS

COMBAT ENGINEER

Secondary MOS

Infiltration

Rank

E-5/Sergeant

Organizational information
Factions
Subteams
| | | |
| --- | --- | --- |
| " | And in our life, we will all face pain and strife but push on through and keep your head up high. | " |
CONCEALER always saw herself as someone different and had spent much of her life going through self-discovery until she finally was able to accept herself as Meggan Briar through her commitment to G.I. Joe. Fully trained as an engineer with an advanced understanding of most weapons, she is ready for combat. When she is not working on a project in the lab, motor pool, or firing range, she is perfecting her appearance and teaching herself how to be mistress of disguise; whether that be with cosmetics or an advanced combat systems suit that uses technology to help camouflage herself. One of her biggest flaws is that she is focused on her own vanity and battling her dysphoria.
History
Timeline for Major Life Events.

| Year | Event |
| --- | --- |
| May 7, 1998 | Meggan was born |
| September 2015 | College started; Meggan started to transitional shortly after |
| September 1, 2020 | Military training started. |
Canonical/Pre-MUX/Theme History
Much of Meggan's life seems to be either missing on paper, redacted, or, if you ask her, "confused" with her late twin brother's life; including important documents. She claims that her parents just do not have any childhood photos or pictures of her because of an incident but she has photos of her brother. More over, Meggan Briar shares the same Social Security number as her brother and there are no school records of Meggan ever attending the same public school as her brother; however her college years have been verified that she completed her courses with high honors. Initially, Meggan had no incentive to join the military until the Department of Defense issued the DOD INSTRUCTION 1300.28 as a policy allowing the rights she felt she could agree with.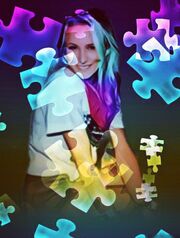 Childhood
Most of Meggan's childhood seems to be referenced as being typical and she will make reference to her twin brother* casually as someone she spent her time with. She often will joke about how she used to play with cars, trucks, dinosaurs, and other boy toys but would also wish she had more of 'girlish' activities like getting involved in sewing, doll houses, etc. During her childhood, she received above average grades; excelling in both the math and sciences. As a kid, she was intrigued by the video game, Metroid Prime where the main protagonist was a female. She tried to deny it while in school but did would 'reluctantly' play games with the girls instead of the boys. She always would critique the outfits that Barbie and Ken dolls would have; while trying to switch the clothing between the two. This would lead to friends not being amused.
Adolescence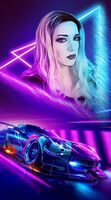 During her teenage years, Meggan was social but often kept to herself when given the opportunities so she can continue her studies. She was involved in some after school activities such as theater and some sports but often talks about how her twin brother did most of the activities. During her high school and college years, Meggan did partake in dangerous activities to help fund her transition; this includes being an active member of the 'Nuts and Bolts Drag Racers Show' as well as doing a drag show staged wrestling league under the names of 'TranSister' and 'Autumn Violet.'
Adulthood
Meggan and her twin brother attended New York University and took the same classes at the same time. She often credits this as the time as when she last saw her brother who sacrificed himself so she can live. After the realization that she will never be the son her father wanted her to be, Meggan forged her identity in college through the help of her community. She finally came out of her shell; no longer timid and shy; instead she emerged as self-made independent woman who has a passion for tinkering and perfecting electronics and other devices.
During her college years, Meggan studied electrical engineering while experimenting with various combat scenarios. This helped inspire her cosplay obsession; furthering her decisions to become who she is today. She focuses on trying to be the person she wants to be rather than trying to be the person others view her as. While stereotypes and others' views create her dysphoria, Meggan still tries to be positive about her life choices.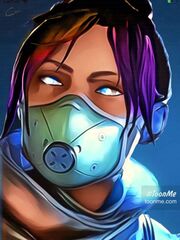 As she worked further on exploring herself, she was able to discover she had the talent to use cosmetics to make herself look different and pretend to be different people; which was useful as she would mimic those who inspired her to become who she is today. Using a military contract position to help advance her career, she quickly found herself enlisting with G.I. Joe.
MUX History
Concealer joined G.I. Joe in 2021. Later that year, Flint approved her to work on the Starfighter.
In 2022, Concealer was temporarily assigned to Star Brigade.
Hobbies & Interest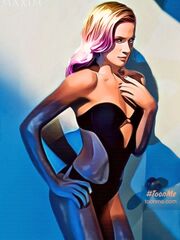 In her free time, she played video games and tried to figure out how to strategically attack targets. During her off duty times, Meggan can be found designing theoretical armors, weapons, and, when time permits, enjoying nightclubs, blogging, and sharing fashion tips.
Views
Politically, Meggan is into Libertarianism and agnostic religiously. She believes in science over spirituality. While she is a transwoman, she also identifies as genderfluid. She sufferers sometimes from gender dysphoria; thus is why she refers to her past as if it was lived by her twin brother that never existed.
G.I. Joe

Meggan joined G.I. Joe after doing contract work with the US Military and government. While she is often questioning how supportive the government really is for the rights of individuals like herself, she trusts G.I. Joe over what Cobra would do as a dictatorship. She is aware that she is pressing issues by using the Trans Pride colors along with her customized G. I. Joe logo.

Cobra

Cobra seemingly has ideas to rule the world and force their standards on to the free world. Meggan cannot get behind Cobra Commander's ego nor the violence that Cobra represents.

Transformers

Meggan has mixed feelings for the Cybertronians. The name 'Transformers' seems controversial to herself while she can relate to being forced to be hiding their true identities to fit in.

Autobots

Meggan has respect for the Autoboots but she resents that they have brought their war to her planet.

Decepticons

Similar to her views of Cobra, Meggan cannot respect the actions of Megatron and Galvatron.
Personality
While Meggan won't easily admit to being transgendered, she will casually reference it when she lets her guard down in conversations. She prefers to keep it as an intimate secret of her identity; not because she is ashamed of it but because she is not willing to let her gender be her identity. As Meggan Briar, she is capable of blending in almost anywhere. She is shy at first but when she is comfortable with herself and her surroundings, she can be boisterous, flamboyant, social, and helpful. She has a flirty persona with anyone around. She spends her time working on research and development for weapon systems and vehicles. Despite being flirtatious, Meggan remains professional while on duty.
When she gears up as Concealer for combat and special missions, she is rather mechanical and almost void of emotion; she stays on task to keep focus. She understands what is at risk and is willing to sacrifice herself for the greater good. As Concealer, Meggan tries to stay focused to ensure that her actions merit the consequences. She picked her handle as a nickname due to a song that represented how she felt after some incidents when she initially started to transition. While the song, itself, is about being abused and using make-up to hide the bruises, Meggan sees make-up as a badge of courage now when she wears it. As she also specializes in hiding and blending in, she found this song title to be appropriate as it also reminds her of what she is fighting for.
Quirks
Despite trying to hide the fact that she is transgender when she first meets people and she is a capable of handling covert operations, Meggan often will show off her 'Trans Pride' in any way possible; whether it's a subtle take of the G.I. Joe logo by swapping the colors, going to a LGBTQ+ friendly event, or more. It's because Meggan is happy with her new identity and subconsciously does not want to 'cage' herself up.
Meggan is a vegetarian but her will folds in half when it is Taco Tuesday or a cheeseburger or bacon is involved.
She is convinced she has undiagnosed ADHD.
Inspirations
Accessories & Equipment
Trained as a combat engineer and with the ability to quickly and skillfully to help her unit navigate while on combat missions by constructing bridges, clearing barriers with explosives and detecting and avoiding mines and other environmental hazards She is capable of handling herself in combat as well as being able to use disguises to blend in her surroundings. Some of her equipment is experimental with the modifications she was made.
Vehicles

2022 Harley Davidson Sportster; blue and customized to have a retro look.
2022 Toyota Supra; stock parts.

Armor

Standing at 6' in full combat armor is Concealer. The build suggests a feminine individual but much is not evident. On the top of her head is a metallic purple full helmet with white accents. Covering her neck is a dark gray cloth but there is also a protective layer of white armor hiding behind. Over her torso is more white armor with gray Kevlar exposed to allow unrestricted mobility. Her arms are covered behind the same black Kevlar armor though her shoulders and forearms have some white armor. On her hands are white gloves. Her left forearm has a silver computer harnessed around it. Her legs are protected behind white armor with the bottom of her boots being a dark purple.
Weapons

Shotgun. Mastiff. Powerful semi-auto shotgun.
Assault Rifle. R-301. Full-auto and high accuracy.
Shotgun. Peacekeeper. Lever-action shotgun.
Anti-Personal Mine.
Tactical Knife.

Outfits

R&D

Before you stands Meggan! She has a small smile on her face and her curly long blondish hair has tints of rainbow colors as highlights. Her blue eyes are warm and she has on a hint of purple eye shadow and lipstick. Meggan is standing about 6 foot and is athletically fit. She appears to be in her early twenties. Right now, she is wearing a white t-shirt with a modified version of the G.I. Joe logo... instead of being Red, White, and Blue, it's Pink White, and Blue. She has on a pair of camo pants and a pair of black combat boots.
face and her curly long blondish hair has tints of pink highlights. Her blue eyes are warm and she has on a hint of pink eye shadow and lipstick. Meggan is standing about 6 foot and is athletically fit. She appears to be in her early twenties.. Right now, in her civilian attire, Meggan is wearing a black cropped t-shirt that is rather a slim fitting that shows her curves. On her legs, she has leggings that match the Trans Pride color scheme but with glitter. On her feet, she is wearing a pair of glittery pink platform high heel sandals with ankle straps.

Work Out

Before you stands Meggan! She has a small smile on her face and her curly long blondish hair has tints of pink highlights. Her blue eyes are warm and she has on a hint of pink eye shadow and lipstick. Meggan is standing about 6 foot and is athletically fit. She appears to be in her early twenties.. Right now, Meggan is ready to work out! She has on a periwinkle sports bra with pink and white stripes running across it. Her exposed midriff is toned. She has on matching exercise shorts that are extra short with a bikini bottom for swimming underneath. If she is not, she has on pink running shoes with blue laces.

Lounge/Relax

Before you stands Meggan! She has a small smile on her face and her curly blondish hair has tints of pink highlights. Her blue eyes are warm and she has on a hint of pink eye shadow and lipstick. Meggan is standing about 6 foot and is athletically fit. She appears to be in her early twenties.. Presently, Meggan is wearing a pink zipper hooded sweatshirt with a white tank top underneath. On her legs are a pair of periwinkle leggings and pink Converse sneakers.

Cosplay/Pin Up Outfits

Meggan has an obsession with trying to cosplay as favorite videogame characters. These outfits and cosplays help inspire her designs for her uniforms and other attire. Sometimes, Meggan attempts to see how she looks as a 'pin-up' though she keeps most of those photos private.

Formal

Before you stands Meggan! She has a small smile on her face and her blondish hair has tints of pink and blue highlights that is up in a bun. Her blue eyes are warm and she has on a hint of pink eye shadow and lipstick. Meggan is standing about 6 foot and is athletically fit. She appears to be in her early twenties.. Right now, in her formal attire, Meggan is wearing a fitted dress on top and a flared skirt on the bottom that really calls attention to her figure. The pattern on her dress is a distressed transgender pride flag. On her feet, she is wearing a pair of glittery pink platform high heel sandals with ankle straps. Her nails match the glittering pink of her high heels.
Resources

Work Station:

Set up with several monitors, tables, shelves, and a server, Meggan has her designated lab all set up to run simulations as she works on physical projects and hardware. Sometimes, Meggan stays later than her neighboring lab partners so she has made it into a second home where she can adjust the lights to match whatever colors she wanted to have it. She often uses the pride color scheme when she works into the late hours of the night by herself.

Computer:

Meggan has a custom built desktop with interior lights and solid state hardware to prevent crashing and also allows for her to run her research at optimum conditions. She has a few monitors hooked up to it to give her the ability to see what is going on with the data and the renders. While not required, Meggan has opted to install a series of extra LED lights to theme her PC; the lights alternate from blue to pink giving it more of an appeal to fit her off duty theme. She has it set to communicate as a server to her laptop, tablet, and most secured mobile technology. Her goal is to have it record data from her combat suit to help give real time data during a combat scenario and aid with ideas of what needs to be done to help. It also has a pretty loud sound system that she uses to rock out with.

IRC with Meggan/Sylveon

Meggan has a custom ICQ icon for the chat. She uses the handle 'Sylveon' as she identifies with being an Evee as well as the color scheme of the Pokemon creature. She often uses the chat to help socialize as well as to explore what is going on in the world around her. This can lead to her getting into deep conversations or getting into silly antics. Be warned!

Living Quarters:

Equipped with a standard living quarter, Meggan has decorated it with colorful furniture and arrangements to allow her to show off her character. Some of the wall art is representing how she feels while she has also installed in mirrors on a wall to make it look like a window to the outside. Inside her room, one would find a guitar, a desk, laptop, clothing, series of books, and an arsenal of clothing and accessories.
Playlists
Playlists for Meggan

| Time/Event | Song | Reason Why |
| --- | --- | --- |
| August 2017 | Grouplove - Ways To Go | One of Meggan's favorites for karaoke; she relates to this song about herself. She sees that she has lot to go to finally be herself but she also relates to the lyrics 'I didn't know my name.' |
| September 2020 | Delilah Montagu - Loud | Meggan relates this song to transitioning herself to being a transgendered woman as well as joining G.I. Joe as an engineer. She feels this song relates to how she was confused about who she was but now she is ready to accept a healthy relationship with herself and is proud of who she is. |
| June 2021 | Dynamite Hack - Anyway (Female Version) | This song is how Meggan saw her training and boot camp when she enlisted at first. There were several trials and tribulations she faced; she felt the pressure of her gender dystopia weighing heavily on her as she tried to still continue and embrace being 'girly' while in BootCamp. |
| July 2021 | Bleachers - How Dare You Want More | Meggan is guilty of singing this song to herself while looking at herself in the mirror and putting her game face on. Sometimes she'd rock out during BootCamp while thinking of this song as she would force herself to press on. |
| December 2021 | Red Hearse - Born to Bleed | During a routine patrol and working on her R&D experiment, Meggan found herself fighting her conscience to protect a close coworker. While not approving of her own actions, Meggan adjusted to the inner pain because she felt her friendship with her coworker would improve herself to want to excel for others. |
| December 2021 | Eve 6 - Androgyne Friend | Meggan tries knows to keep her transition quiet but she keeps flaunting the information out loud with coworkers; even if she is not going to talk directly about it; she often finds herself where a 'Trans Pride' shirt or something in her wardrobe. This song is how she associates. |
| December 2021 | Studio Killers - Jenny | |
| March 2022 | The Birthday Massacre - Fascination | With a lot of the chaos going on with the world and the constant reminder that death is easily around the corner. "The only reason to live is cause we're dying" is her favorite line. |
Stats & Skills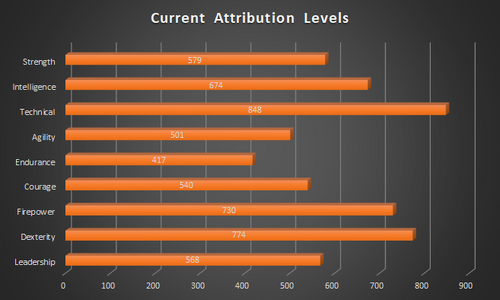 Megan is in her mid-twenties and has a wide range of skills.
Date of Birth: May 7, 1998
Place of Birth: New York City, NY
Height: 6'
Weight: 135 lbs
Eye Color: Blue, but wears contacts
Hair Color: Blonde, but uses hair colors
Other Distinguishing Features: N/A
Extent of Education: College Graduate
Marital Status: Single
These are some of Meggan's talents that she uses while serving with the G.I. Joe tasks and missions she is involved with.
Skills: Advanced Combat Systems, Disguise, Makeup, Structural Engineering, Battlefield Improvisation, Explosives, Demolitions, Making/Clearing Obstacles, Weapons Training, Tinkering
Relationships
Family
Mother: Meggan's mother is someone she communicates with on occasion.
Father: Meggan has referenced her father as someone who she respects and loves but does not often communicate with. Sometimes she claims her father is dead as a way to adjust to the lack of a connection she has.
"Identical Twin Brother" is often referenced as a mechanism that Meggan uses to refer to past herself in a third person.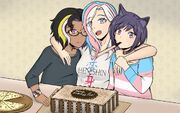 Civilian Friends
Spike Witwicky: Meggan does not consider Spike a friend as much as a contact. She is not concerned with his stance or reactions. She has met him on several brief occasions, such as when Wraith and Sci-Fi had their wedding.
NYU friends: Meggan often references a supporting group of friends from her time at NYU.
Various LGBTQ+ Support Groups: Meggan uses Reddit and other online resources as a way of to communicate with others sharing experiences, tips, and social activities.
Cybertronian Based Life
Ghost: Meggan met with 'Muse' on the internet chat and was excited to become friends with a Cybertronian. If Ghost even remembers or cares about Meggan... That needs to be seen.
Omen: While meeting Ghost, Meggan attempted to pet and play with Omen who did not like that attention. Meggan, however, loved it.
Starlock: When a Decepticon attacked the space station that Meggan was on, Starlock was quick to offer aid and help save her. Meggan became obsessed with Starlock for a brief amount of time.
G.I. Joe
Meggan Gallery
OOC Notes
Meggan, as a character, is inspired off Wraith from Apex Legends as far as her voice actress, uniform, and design with mixed elements from the model Kate Lambert.
Also, this is how Meggan views the faction...
Logs / Posts
2021 Log
Date
Subject
Log/Link
12.02.2021
Updates
From: meggan.briar@gijoe.dod.mil

To: command@gijoe.dod.mil, staff@gijoe.dod.mil

Subject: Training


I have completed all levels of entry training and am currently planning on hosting a future training event for those of us who are located on Earth still. I am offering a training event with new camouflage equipment that is similar to a capture the flag with paintball guns kind of exercise if I am allowed to do so. It's nothing required but a great way to help socialize and evaluate where we can improve on these exercises. I plan on using a weekend for this. Please let me know if this is allowed and what needs to be authorized for this combat simulation.


On a side note, R&D is hosting a Cards Against Cobra game night tonight in our office. Pizza, drinks, sodas, and snacks are being offered as well as a set of prizes. We would love to socialize with the rest of the crew. We don't bite...unless we have permission.


Yo Joe!

-Meggan Briar aka Concealer

12.02.2021
R&D Game Night
Meggan meets and hangs out with Wraith for the first time.
12.07.2021
Look What the Cat Dragged in!
Meggan aka Concealer has been tasked with picking the local bar for the G.I. Joe R&D's annual Holiday bar. Being new to the area, she finds the one bar she knows; the local Hamburger Mary's... famous for their Tequila Tuesday. Come on out for a fun social scene! Cobra members can come provided they are out of uniform and just act like civvies for the night.


Lady Jaye, Wraith, and Concealer may or may not have been buzzed enough to karaoke The Muppet's 'The Rainbow Connection' at the LGBTQ+ bar... Cameras may or may not have recorded this as well...

12.09.2021
Brig Incident
During a nightly patrol, while working on a late-night experiment in the lab, Meggan found herself having to help Wraith handle a situation that resulted in a small, localized power outage that Meggan may or may not be responsible for. The outage seems to be related to why the brig's camera footage went out for a few moments as well. This incident led to Meggan requesting that the inmate, SyFy, be relocated somewhere else.
12.23.2021
Operation Stellar Catapult
TO: G.I. Joe Personnel

From: Concealer

Subject: Operation Stellar Catapult

Body:

The brilliant mind of Cloudburst and I have been looking over the second Starfighter that Sci-Fi has stolen and modified. Specs, tech, and gear seem all set for a potential mission into space. We are planning on doing some small prep work and modifications to verify that all is as it should be. Obviously with the core of Star Brigade out of town, so to speak, we'd need to assign the two-person crew. Flint and Duke, this is where we suggest you take lead on this part. I don't suggest we send up Shipwreck with Ice-Cream Soldier as the two candidates for this voyage. Then again, their skill sets might be set for such a task. Happy Holidays, Merry Christmas, and Boxing Day!

Faithfully yours,

Concealer

12/27/2021
re: Operation Stellar Catapult
TO: G.I. Joe Personnel

From: Concealer

Subject: re: Operation Stellar Catapult

Body:

Cloudburst and I are nearing the final steps on readying the Starfighter however we have hit a personnel issue. The problem is that it is based off the stolen Stiletto from Cobra. All of our data suggests that Mindbender had to modify the Star-Viper brains with some sort of neurol adapters in order to pilot and use the Stiletto at the speeds that they are designed to travel through space at. Issue we are facing is that we know not much of how to do this operation but we do know that Seymour Fine has not undergone this procedure and he has been able to somehow do all of this.

We sadly do not have any skilled pilots that are on his level for this. Crammesiter (Cloudburst) and I are unable to find a suitable candidate to pilot. We do have the Starfighter space flight simulator but we have already been exhausting the roster to see who is able to. I fear that we might have a potential equivalent of Sci-Fi in our custody though. Flint, Doc, and Duke, this is your call. I have caught up on the reports of Ebony causing some scenarios, while SyFy seems to be going a different route. Is it coincidental that they both chose recently to be active as well or is something more nefarious in the works?

Faithfully yours,

Concealer

12/30/2021
End of Year Report
To: Staff

All projects are finalized. The Starfighter is finished as far as I can. I am turning it over for some more of the aerospace R&D to handle final review. I will be taking leave shortly and looking forward to reassignment.

From,

M. R. Briar

1/10/2022
Protocol ClassWork
Concealer here. We will be using the Training Facilities located on Sublevel 2. I will be running two hour sessions from 0500 to 0700 daily as well as some from 1800 to 2000 sessions throughout the weekdays and weekends. As my primary function is to be an Engineer, I will be working in the labs during my normal R&D shifts. Please schedule if you need any additional times and I will be glad to help out.

       I have been working on adding in some new scenarios and frameworks to the combat VR setup. Per Flint, I will be trying to run as much to keep us on our toes while we wait to see when our troops are back home from space. I think we should also assess where our weakest points are in security. After the SyFy incident, we need to be more alert. 


       Speaking of that, Mr. Flint, when you have a chance, I offer an explanation. During a security update, we were concerned that SyFy was going to hack or escape as he had been taken into custody with our Sci-Fi proving information on him. Wraith and I wanted to make sure that if we tested him to see if he would escape or attack that he would still be in the holding cell. As the tech side of this was fully on my side, I accept full blame for the update to the brig mainframe needing that patch update. Without having all the details on how the brig was secured, I wanted to make sure that no one was able to get in or out. I accept my probation or demotion for this.


1/21/2022
Wraith almost becomes a Ghost
Wraith is visiting NASA, to learn about a New Communications System, when Cobra attacks to steal the tech for themselves.
2/11/2022
Nerf Herding or a Nerd Wedding
Wraith and Sci-Fi get married, in style?
Players
Concealer was created and is played by REDACTED.
References
---
Is this all there is?!!
---
This character article is a stub and is missing information. You can help Transformers Universe MUX by expanding it.