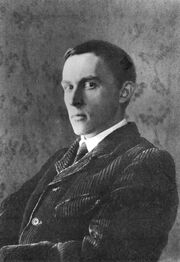 Clarence Brecht Witwicky is the child of Archibald and Hilda Witwicky. He had eight children, including one he named Jeremiah Herbert Witwicky. Clarence was a hard-drinking, cheating, gambling man, rebelling from the disgrace of growing up poor with a father incarcerated when Clarence was 12 for incurable insanity.
History
Clarence Brecht Witwicky was born 24 February, 1885. After age 12 He grew up fatherless and poor, the son of a disgraced and institutionalized Dutch-American explorer. Married young to actress Helena Modjeska, he had a brood of eight children with three different women, one of which fathered Ron and Sparkplug Witwicky. His fortunes were up and down his entire life, as a addiction to alcohol, drugs, and gambling played havoc on his life and that of his large family.
For a time in the late 1930s Clarence lived in Springfield, Missouri before dying in 1939 in severe debt. He committed suicide on September 18 by taking a drug overdose and trying to slit his wrists. He convinced his young lover Czesława to attempt suicide with him by consuming Luminal, but she survived. Clarence's 22-year-old son Jeremiah is severely affected by his death. Seven years later, Jeremiah made his own son, William, burn many of the possessions Clarence Witwicky's inherited from his father Archibald.
The Witwicky home in Springfield was originally left to Clarence's eldest son, Samuel (Sam Witwicky and Spike's great-uncle). The house eventually passed to Jeremiah, who refused to live in it and sold it in 1979.
Shattered Glass
In the Shattered Glass universe Clarence Witwicky was the successful immigrant son of a prominant Dutch doctor, and raised a close family of doctors, engineers, and lawyers, including the civil rights attorney Jeremiah Witwicky.
Community content is available under
CC-BY-SA
unless otherwise noted.