Slaughter's Marauders is a G.I. Joe subgroup originally assembled by Sgt. Slaughter that specializes in rapid offensive attacks. The team members' uniforms are a green, brown, and blue camouflage versions of their normal outfits. The vehicles used by Slaughter's Marauders are heavily refitted G.I. Joe tracked vehicles. Captain Falcon currently leads the team.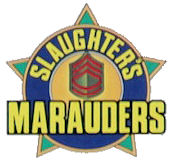 History
In 2011, Falcon was put in charge of a new group of Slaughter's Marauders, including David "Red Dog" Taputapu, Felix "Mercenary" Stratton, Gabriel "Barbecue" Kelly, Low-Light, Spirit Iron-Knife, and Varujan "Bull" Ayvazyan.
Personnel
   * Sgt. Slaughter
   * Barbecue 
   * Footloose 
   * Low-Light 

   * Mutt

   * Spirit 

Vehicles
   * Armadillo (Marauders) (a special variant of the 1985 Armadillo)
   * Equalizer (a special variant of the 1985 Mauler M.B.T.)
   * Lynx (a special variant of the 1983 Wolverine, featuring the primary cannon of the Mauler)

Trending pages
All items (19)
Community content is available under
CC-BY-SA
unless otherwise noted.