Obi-Wan Finale - The Loop
Play Sound
Camshaft is an evil Autobot from the "Shattered Glass" universe.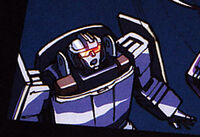 Name: SG-Camshaft
Faction: Autobot
Species: Transformer
Function: ATTACK/RECON
Division: Infantry
Sub-Group: Omnibot
Type: TP-Only
"The road is no place for the weak."
CAMSHAFT is a scout for the Autobots and a member of Remote Patrol Six. He's eager for the chance to show off his stuff with some action. He is secretly loyal to Rodimus and Alpha Trion's rebellion against Optimus Prime. He has no fear of car accidents, and with good reason: his lightning-fast automated reflexes allow him to pulverize any vehicle that approaches within 4 inches of his metal frame. The arrogant confidence he has about his own safety leads to reckless driving, about which Optimus Prime couldn't care less as long as Camshaft's roadside homicide spreads fear across the planet. Camshaft has no concern about the lives of his planet's native inhabitants. Camshaft's aggressive nature is a boon in battle against the peaceful Decepticons, and Optimus is wouldn't change that even if he could.
In thickly-armored Ford Thunderbird NASCAR stock car mode, Camshaft's rear fenders can piston outward, slamming into anyone driving next to him. His rear window and trunk also conceals a high-energy plasma beam projector with a range of 2 miles. The same weaponry is available to him in his robot mode, supplementing a machine gun and his powerful fists, each capable of 30 punches per minute, with each punch having a force of 80,000 psi. Converting to an offensive mode while in the act of driving sometimes causes Camshaft to lose control of his driving. As it is unlikely that he will back off from any confrontation, he often finds himself overmatched by an opponent. Although Camshaft is a professed huge fan of NASCAR, his favorite parts are the crashes.
History
Canonical/Pre-MUX/Theme History:
Camshaft is secretly loyal to Alpha Trion's rebellion against Optimus Prime, although he managed not to be implicated in Ultra Magnus's coup attempt.
Camshaft, along with the rest of Remote Patrol Six, was dispatched to scan the Plait Expanse's radiation as Cybertron approached the anomoly.
MUX History
Camshaft was present during the Remote Patrol Six attack on the V'ger in orbit around Cybertron in 2012.
Logs
OOC Note
Remote Patrol Six is named such because they are the sixth group sent out on patrol (the first five have been killed), not because they have to maintain six members at all times.
Of the Six, Kup, Camshaft, and Warpath are secretly working for Alpha Trion. Downshift is an undercover agent of the Autobot Secret Police, spying on the members of the Six for their suspected seditious ties. Powerglide and Sandstorm are comparatively innocent, and therefore very likely to die in the inevitable crossfire.
Players
Camshaft is available for temping. Sydney has dibs. B)
References
---