Buzzbomb is a henchman from Cybertron.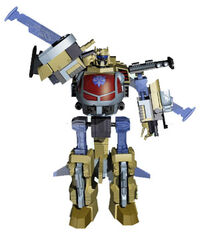 Hardworking, unambitious, and dispassionate, Buzzbomb is Cryotek's ideal henchman. For years, he worked at a dock, working efficiently but drawing little attention, until he killed his foreman and the dock's security when Cryotek gave him an offer. Buzzbomb's new boss finds his blue-collar approach to crime refreshing. He'll break any limb or kill any target systematically, and without reservation, simply because it's his job. However, he's not very agile, nor particularly imaginative.
Buzzbomb transforms into a Cybertronian helicopter.
History
With the seeming death of Obsidian in 2014, Cryotek sent Buzzbomb and Backslash to Monacus to oversee his operations there so Cryotek could focus on what's happening on Cybertron.
In 2015, however, with the return of Galvatron, Cryotex ordered Buzzbomb and Backslash back to Cybertron to support his efforts there.
In 2021, when Cryotek was beaten and captured by Shockwave, Buzzbomb fled to Tagan Heights.
In 2022, Buzzbomb was hired by Thunderwatch to take part in the attack on Fort Scyk.
Notes
On the MUX, Buzzbomb is an unwitting member of the Cult of Galvatron -- he doesn't quite realize his boss's cultist leanings.
Buzzbomb is not named in the cartoon he appears in; his name (and profile information) comes from his profile, published as Fun Publications member-only content on the club website.
Buzzbomb is modeled after the Cybertron Decepticon Buzzsaw. His coloration comes from the "Fox Kids" redeco of the original Waspinator mold.
The name "Buzzbomb" comes from Hasbro's old C.O.P.S. toyline.
References