Log Title: Bug Hunt
Characters: Arachnae, Astrotrain, Cyclonus, Floodlight, Ravage, Shockwave, Banshee, Megatron, Razorclaw, Valour
Location: Kalis Region
Date: February 7, 2021
TP: Space Cthuhlu (aftermath)
Summary: Cyclonus leads a team under Kalis to wipe out the remaining transorgs around the Dweller's hibernation chamber.
As logged by Cyclonus
Log session starting at 17:10:53 on Sunday, 7 February 2021.
<<Decepticon>> Emperor Megatron says, "Commander Valour, Field Commander Razorclaw, and Private Banshee report to me in Kolkular."
<<Decepticon>> Fräulein Banshee says, "Jawohl! I am on my way."
<<Decepticon>> Razorclaw says, "As you command, sir."
<<Decepticon>> Aerospace CO Valour says, "Immediately, your Imperial Majesty!"
Kalis Region
Going underground engaging in a sweep after transorganic monstrosities is not something that Ravage particularly wants to do so. But.. His experience tracking Autobots through the tunnels and infiltration makes him a good fit for it. Not particularly happy with the selection of himself, but voicing that to no one, Ravage arrives over at the rendezvous point. While mostly staying quiet.
It's a bright and sunny day on Cybertron, which makes going into the dark pit under Kalis and particularly unhappy prospect. But if there's any disappointment on Cyclonus' face, it's only at the paltry numbers of the party before him. "This is -all-? Very well." He gives a nod to Astrotrain, Ravage, and Floodlight. "Astrotrain, you and I clearly have the best armor out of this group. We'll take the front. Ravage, if any harm comes to Floodlight, I will do the same to you."
If Ravage isn't happy about going underground hunting monsters, you can bet its doubly-so for Floodlight. The Decepticon data analyst isn't built for subterranean adventures, but she IS designed for collecting and processing information, so along she goes, to record what the Decepticons find and store and evaluate it for mission-leader Cyclonus. Although she is frightened out of her helmet, she tries to keep it together. She's a Decepticon. She can handle this. She PROBABLY won't get eaten. She glances apologetically to Ravage, giving him a shaky grin.
Shockwave is picked up on sensors before he comes into view, his presence neither flashy nor loud as he see's no need for either. He simply floats into the air at his normal non-rushed speed, the large purple Mech coming to rest a short distance away before he pads over towards the group, simply stating with now what looks like a half dozen little drones floating randomly behind him, simply stating "Cyclonus."
Astrotrain is hard to miss arriving. He's big, that wingspan is impressive... and there's a loud thunk as he sets down the ammo locker he'd been carrying. "So, got a bit of an infestation to take care of, do we?" He kicks the locker to open it, pulling out a couple of extra weapons. A couple of spare rifles maglocked against his wings, and something akin to a minigun in addition to his usual Ionic Displacer. "Good, I need a break from the boredom of lugging Scrapper's junk into orbit."
Ravage maintains his professionalism as best he can while -trying- not to respond with a 'wait why me' before he puts his general neutral expression back on and gives a sympathetic look over to Floodlight. The presence of Shockwave makes Ravage torn between relief at having some heavy artillery presence and more fear that this means he's going to be 'volunteered' even more than he already has been here. The presence fo Astrotrain is also more reassurance. Even as Ravage would take a moment to nod to Cyclonus, "As you say, My Lord."
Cyclonus gives Shockwave a nod. "Commander," he acknowledges. "I was not aware you would be coming. Would you care to take the rear, then, so we aren't caught unawares if we're ambushed?"
Arachnae slips in quietly and simply listens to the ongoings.
Floodlight glances awkwardly down at her datapad. She then adjusts her head-mounted camera add-on, making sure the multi-spectrum settings are properly attuned for subterranean recording. She glances up at all the heavy-hitters around her and tries to calm herself - whatever they face, SURELY it can be handled by the combined might of Astrotrain, Cyclonus, and Shockwave, right? She blinks rapidly and manually turns down her internal fan.
Shockwave looks at the entrance before his focus drifts to Cyclonus, "You are in charge of this, I will go where you wish. For not at least." He returns his attention to the area, taking in any details that might stand out.
Ravage would give a low sigh, and then turn to Floodlight with a suggestion, "Stay if you can in the middle while the rest of us funnel information to you and you can analyse it. I presume at the point we encounter the main hive there will be an engagement, and your analytical abilities will allow us to pinpoint weaknesses." Him nodding at Cyclonus and Shockwave. "With your approval, of course my Lord."
Arachnae reaches up and ticks her visor, insuring that it's locked into place, mask as well. And she peers at the amalgam of the Empires finest before sliding ahead of Floodlight in the line up, rotors flicking behind her.
Cyclonus nods to Ravage and notes Arachnae, giving her a nod as well. "Then let us waste no more time." He turns and strides down the tunnel.
Floodlight nods her largish head quickly in response to Ravage's suggestion. He has been assigned as her protector, in a way, so she is extra keen to make that job as easy for him as possible. She closes the cap on the camera until they're below ground, not wanting the glow of Cybertron's red sun to dazzle the delicate sensors before she has a chance to use them. She moves closer to the rest of the group, glancing up at Cyclonus and waiting for the order to descend into the tunnels. As soon as he does, she hurries to keep up with the larger Cons, floating just above the ground rather than trying to walk as fast on shorter legs.
The tunnels beneath Kalis are quiet and creepy. Echoes make it sound like one is not alone yet prevent the source of any additional sounds from being identified. Pipes and conduits pass from floor to ceiling, casting deeper shadows in the darkness and providing a million small places to hide. Picked-clear parts of corpses litter the tunnels, which smell strongly of death. This is no place for the living.
"Yeah, keep the scanners where they're not gonna get snatched up and stomped on." Astrotrain is at least polite enough to not call Floodlight fragile or something. Granted, Ravage isn't exactly a tank either, but he knows the cat has more than enough other tricks to do what he needs to do. He clicks the safety off his main rifle. "Let's get this bug hunt on with." Good thing he's not claustrophobic, given how big and broadshoulderwinged he is.
Shockwave simply falls into place, the small swarm of little drones following along behind him like a trail of ducklings. "Do we know if the bugs that were before the chamber have spawned more? Or are they still gone?"
Ravage fades into the shadows without a sound.
As soon as he's going along, Ravage is hitting the ground and engaging in stealth mode as soon as they're near to the darkness. Once they're out of the way of that ever so wretched light. In the shadows, he seems to dim and vanish into them. The only indicator of his presence is the light glow of his optics and the tag along sensors of his transponder indicative of his presence. Ravage seems far more relaxed now that he is in his element, going along and blending in to the nothingness.
Arachnae's emerald optics glint behind her visor as she shifts her systems to a more ranged review of the world around her verses the up close and personal. As she falls into line, things trail out of from debris here and there and fall into a half circle around her, small octo-peded drones of various designs. One even scoots up her frame to settle on her shoulder, the clockwork clicking softly. Rotors lock in layers behind her as she moves, easily used to adjusting her stride for larger mechanisms.
Cyclonus 's strides shift to more of a stalk as the group gets deeper in. Cyclonus doesn't spend nearly as much time lurking about caves as he does in the air, but this is hardly unknown territory for the saboteur. "Unfortunately we do not have any intelligence as to their activities since we were last here," he answers Shockwave without glancing back. "We shall simply have to deal with whatever we find." He pays close attention to their surroundings, knowing how the creatures had tried to ambush the group that was down here last.
Floodlight floats along, making a face at the creepy picked-clean endoskeletons. She records a sensor sweep just in case, but then tries not to look. She is happy she has antigrav, so she doesn't have to worry about stepping into anything. She sweeps the area, checking it against records from the last excavation. "No sign of recent activity, sirs," she says, supplementing Cyclonus's answer to Shockwave's question. She stops and shines a light into a half-collapsed chamber. "This way to the Dweller's hibernation chamber," she indicates for those who haven't been here before.
Astrotrain doesn't have a creepy stalking thing to do. He'll leave that to Cyclonus and wherever Ravage slinked into the shadows. "As long as 'dealing with it' is blowing the slag outta the creepy little glitches." He's just marching with the group, his rifle at the ready. "Whoever originally thought up these things is one sick fragger though."
Shockwave takes some time to scan the various bodies, cataloging any details he can before he continues on, using his size to ensure he catches up without too much effort.
At the confirmation that no readings are being picked up, Ravage is switching to enhanced senses, running a broad spectrum scan. The others have the tracking elements over covered of sweeping for threats and hostiles. What Ravage is doing is attempting to compare the sensor records taken of the cavern from the last sweep and engagement in the underground.. And then he is going to send his analysis and information along to Floodlight to look for anything that stands out or has changed since then if anything.
Arachnae directs a pair of the small drones to take samples of the endoskeletons. Metallurgy of the dead could prove to be interesting analysis later on. Or a reason to come back and.. pick a few to run tests on. She seems to have no concern about stepping in ick, gick, or funk, moving along to conserve her power for scanning the here and there. The drone on her shoulder click-whispers, the octet of optics amber gleams in the gloom. Her visor glints then dims as she starts to run checks against what her advanced system can pick out of the gloaming.
Cyclonus doesn't bother to slow down while the scientists pick over the corpses- he heads right for the incubation chamber, hunting live prey.
Floodlight ducks into the next chamber, which is partially collapsed. Debris fills half the room, creating a dangerous, rocky 45-degree incline towards the opposite end of the tunnel. To traverse the space, one must either fly or make the hazardous climb up the slippery slope. At the top, an exit has been blasted into a larger area. That dark, dark lair is full of the remains of large, foul-smelling pods. Most of the pods have been destroyed, and again, this room is partially caved in, although it looks like a much more recent development.
The stench of burning is in the air. An undercurrent of static interferes with radio signals down here, and shadows seem to move just out of sight. The floor is sticky, with a mildly adhesive coating that makes it hard to walk quickly, let alone drive or run. Even the least paranoid Cybertronians may feel like they're being watched. There is a massive, dark alcove dug into the side of the passageway, and the tunnel itself ends at the entrance of the Dweller's Hibernation Chamber. Floodlight waits for the others, careful not to get too far ahead.
Astrotrain follows Cyclonus into the chamber, but after a moment stops. Leans a little to lift one of his large feet off the ground, making a face as the gunk stretchs with it farther than he'd like before finally snapping loose. "That's just nasty. It's like Blot and Skalor had a makeout session down here." Oh dear Primus what a disgusting mental image that is.
Shockwave keeps up at the proper pace, choosing his path to ensure he doesn't bump or run into anything with his larger size and eventually just floats up to the entrance as he see's no point in climbing it.. all the time ensuring he keeps Arachnae in view even as his string of drones keeps pace.
Ravage would take a moment while sweeping his sensors around. Getting a general response on his scans, he would go to quietly pass along the tightbeam link rather than speaking out loud, which could give away his stealth. <<There are signs that something has been through here and scavenging from the destroyed pods. I would estimate that it was quite large, and using blades of a sort to sweep. Long claws, perhaps spears>> Ravage is now moving closer to Floodlight. This is why one lets the heavies go in front.
Ravage's sensor profile withdraws more and more, him fading even further into the darkness.
Arachnae narrows optics, recalling her drones to click and chitter closer to the team and her own position, relaying what they see through her systems. A shake of her head as she stares at the slope before kneeling. She loops a thin cable around one of the drones and sends it up to lock into the path as a guide-rope. Then she starts the climb up using the cable to aid. Cresting into the entrance, she pauses, optics brightening, rotors now flick-twitching at the pods. Drones are sent forth to survey and test while she remains close to the spook-squad. her own sensors sweep and pan as she slows, looking at the pods with unveiled interest in her optics.
Cyclonus foregoes walking in favor of floating as he enters the pod chamber with its sticky floor. His optics brighten as he senses movement within. "Let us be thorough. I want none of them left to disturb our further efforts in this region." He begins to fade to the right, seeking that movement.
As Cyclonus approaches the hibernation chamber, dark beings begin to emerge. A massive, two-headed simian creature takes the lead, screaming, beating its chest, and approaching the even-larger saboteur. Overhead, two flying creatures emerge and swoop down at the team of Decepticons - one resembles a cybernetic Pteranodon, while the other is more insectoid. A small robotic goblinoid peeks out beneath a larger, spiked dragon whose slitted nostrils breath smoke.
Floodlight audibly eeps as the trans-organics appears, but then gets it together again and begins recording. << These don't match the ones injured and killed during the earlier mission, >> she radios the others. << Apparently, there are more of these than reported or anticipated. >>
Trans-Organic Horde has arrived.
Astrotrain looks up as the things emerge, including several noisy ones overhead. "Okay, I ain't not strategist, but even I know lettin' them surround us is a bad idea," the Triplechanger remarks, before lifting his rifle and opening fire. The best defense is not giving your enemy long enough to figure out what they're doing, or some nerdy sounding thing like that.
>> Astrotrain strikes Trans-Organic Horde with Electric-Blaster <Medium>. <<
Shockwave keeps walking, a few of the drones following him peeling off and moving to match Arachnae's that she let loose, the large 'Mech raising his weapon arm but not firing, not yet as his scanner roams over all the targets in front of him. A flick of his hand towards the dragon-like one, "I have a need of that one." Another pair of drones are dropped from his storage and all of them scatter around the room, buzzing qui8ckl and looking like they are doing nothing as Shox strides towards the dragon, his cannon glowing for a second before he fires a shot at the dragon-type's chest.
>> Shockwave strikes Trans-Organic Horde with Laser <Medium>. <<
Ravage likewise does as Cyclonus performs, hovering up a meter or so in midair to attempt to avoid getting any of the 'ichor' on him. Floating up he's still in full sensor stealth mode. Though it's effectiveness at shielding him from trans-organics will be questionable, at least it gives him a modicum of protection if and when they encounter the things. Now, Ravage is focused along the flanks. Looking for weaknesses in the cavern sides, recent movement of rubble.. Anywhere that might be indicative of a side passage or recent disruption. Whether by tunnelers and digging or signs that -something- has come along by some previously nonexistant maneuverings.
Unfortunately, any sense of subtlety or creepage is not in the cards as the -things- come out at full attack. Ravage quickly comms a warning to Floodlight <<Disengage to safer venues. Maintain tightbeam connection to analyse sensor and targeting data>> He's rapidly falling back himself and out of hopefully melee range, trying to sweep around to act as a 'spotter' for the others and pass along sensor data. In a close quarters fight in the tunnels, he is somewhat underequipped.
GAME: Arachnae PASSES a COURAGE roll of High difficulty.
Arachnae comes to a halt as her drones ping-back responses from where they've scurried off too. Rotors fan out behind her as she reacts to the sudden influx of TransOrgs. Or perhaps not, her startle was just at ouch before the eruption of creatures into the chamber. There's a rotor flex and electricity crackles to life along the blades. << There's a large arachnid form in the chamber off of here. It's.. amazing. Oh! Slaggit..>> She falls back, ostensibly to cover Floodlight, dynamos cycling up as she commands her drones to begin a rotation through the chamber, sending their sensory data through a tightbeam to Floodlight.
A flyer himself, Cyclonus locks onto the pteranodon and insect overhead, rising to put himself on an equal level and prevent them from claiming the tactical advantage. He fires several shots, gauging their effectiveness.
>> Cyclonus strikes Trans-Organic Horde with Laser <Medium>. <<
Floodlight listens to Ravage, falling back to the entrance to the chamber and drawing a pistol but otherwise staying out of the fight. She continues to scan and direct data to the other Decepticons, as well as record for post-fight analysis. When Arachnae's data starts coming in, her large optics grow even larger. << Guardian-sized creature to our left flank! >> she warns the others. Sure enough, something starts to move within the alcove... something dark and glittering...
<<Decepticon>> Ravage says, "There's a horde of trans-organic beings in the chamber. Including some  -very- big ones. One estimated has a mass approaching that of a Guardian unit."
<<Decepticon>> Fräulein Banshee says, "Doesn't Encore have an arm of one of those hanging over his bar?"
<<Decepticon>> Ravage says, "I presume given Arachnae's analysis it is probably larger than the bar"
<<Decepticon>> Transport Commander Astrotrain says, "If one is that big, it's gotta be helluva ugly."
<<Decepticon>> Fräulein Banshee says, "Trypticon would like a trophy, if at all possible."
<<Decepticon>> Cyclonus says, "Feel free to rearrange its features to suit yourself, Astrotrain."
The trans-organics move to attack. The two-headed simian screams and rushes Cyclonus, lashing at him with multiple tentacles. Even as Cyclonus takes to the air, the creature simply extends its reach, stretching its tendrils and attempting to drag the saboteur back down to his double mouths. The Pteranodon dives towards the center of the group, but is blasted to shreds by Astrotrain and Cyclonus, raining ichor-soaked circuitry down onto its former compatriots. Its insectoid partner buzzes and dips down, attempting to sting Astrotrain with acidic barbs. The small goblinoid climbs on back of the dragon and squeals in joy as the larger monster rises and charges Shockwave, breathing fire at the operations commander.
>> Trans-Organic Horde misses Cyclonus with Bash. <<
>> Trans-Organic Horde strikes Astrotrain with Bite. <<
>> Trans-Organic Horde strikes Shockwave with Bite. <<
Yeah, that's one freak shredded! But the bug thing decides the Triplechanger looks tasting and swoops down to stab him in the shoulder. "Oh frag no. I've seen how THAT Earth movie ends!" What one he's talking about is debatable, a lot of them involve aliens or giant bugs or giant bug aliens. With a growl he tries to swat the thing off his shoulder, and then slam it into the ground with the butt end of his rifle. "Working on it boss!" he quips back to Cyclonus about rearranging the appearance things.
Parts shift around quickly, and within seconds a gray and purple robot stands in the place of his previous form. His wings are wide and cast a menacing shadow, the Decepticon insignias upon them proudly displaying his alliance.
>> Astrotrain misses Trans-Organic Horde with Smash. <<
<<Decepticon>> Fräulein Banshee says, "Herr Valour... do you haff a moment?"
Shockwave turns to face the dragon as it charges, "Oh? You wish to end your freedom quickly? As you wish.. perhaps I will add a bow to you. Hopefully you will not be too damaged for her use." His gunhand lists up, the barrel glowing with plasma but as it gets close he drops his arm, "So why not save me time and /sit/..." He turns and twists at the hip and tries to /punch/ it in the head when it gets close enough... but with the full strength of a properly built Mech. "Down."
>> Shockwave strikes Trans-Organic Horde with Smash. <<
<<Decepticon>> Aerospace CO Valour says, "Of course, Banshee! Meet me in conference room H."
Ravage would dart along, giving another warning to Floodlight to stay up and out of the engagement. Even as the -swarm- is going on the attack and heavily engaging the Decepticons present and he's blaring another warning. HE's of no use remotely in a fight. He's quickly seeing the heavy batteries going back and forth along both ends and the maulings given, and quickly comes to the generla presumption that it is likely that there will be much, much heavier artillery being exchanged on the way.
Ravage is falling back, then leaping up and over to take cover in some of the alcoves above to dart in them and get to a better observation point and also stay out of range.
Arachnae remains positioned to 'guard' Floodlight while recalling all but one of her drones to set up a semi-circular 'wall' in front of the spook and the doctor. The last one is positioned to keep optics on that thing in the alcove and repeat telemetry back. She settles her stance, reaching behind her to grip and pop a rotor blade off, flipping it and holding like a sword. << The big one is moving! >> She's all aglow, building weapons charge and laying in wait herself to pick and choose when to strike outwards. Her drones shift as she steps forward and sweeps with that 'sword' sending an arc of lightning outwards, wide dispersal at the dragon that Shockwave is focused on.
Ariadne Drones has arrived.
Arachnae dropped Ariadne Drones.
>> Arachnae misses Trans-Organic Horde with Taser <High>. <<
Cyclonus deftly eludes the gorilla thing's tentacles until he sees the pteranodon smashed out of the air. He considers aiming for the insect, but it's tangled up with Astrotrain now. So instead, Cyclonus turns to spray acid on the gorilla that's after him, trying to pick off the weaker minions before the larger transorg properly joins the fight. "Any others expected?" he asks, glancing towards the two analysts.
>> Cyclonus strikes Trans-Organic Horde with Corrosive <Medium>. <<
Floodlight's mouth falls open as the egg-layer starts to emerge from its alcove. Processing data is one thing - seeing it with her own large optics is something else entirely. She shrinks back into the entrance to the chamber even farther, but doesn't retreat - if anything, the Decepticons will need scans of this thing even more than the others. She quickly cycles through every sensor she has, searching for a weakness she can relay to the others. << This seems to be it, sir. Not tracking any more in the chamber beyond, >> she squeaks, trying to sound professional and not afraid.
The insectoid stings Astrotrain and then backs away, staying frustratingly just out of range. After Astrotrain's attack, it swoops in again to try to inject more acid into the Decepticon transport specialist. The dragon swoops down, firing fire on Shockwave that just dances across the operations commander's powerful armor... and in response is merely PUNCHED unconscious in one shot. As it hits the ground the goblinoid leaps off and runs screaming towards the back of the chamber, deciding right off that escape is the best option. The simian screams as its burned with acid and lashes out again with its tentacular arms.
>> Trans-Organic Horde misses Astrotrain with Bite. <<
>> Trans-Organic Horde misses Cyclonus with Slam. <<
Something massive, black, and spiderlike emerges from the alcove. Its infinite optics stare down at the Decepticons among the burnt and broken shells of its destroyed young. Opening its jagged maw, it raises its head and lets out a shriek that can likely be heard all the way up to the surface of Kalis. It moves onto the egg chamber on thin, spindly legs, dragging behind it a massive scorpion-like tail. Someone is going to pay for the deal of its offspring. The only question is, who first must be eaten?
The monster roars again, and bites down at Cyclonus!
>> Ocei the Egg-Layer misses Cyclonus with Bite. <<
This time despite his size Astrotrain manages to duck when the bug-freak lunges at him. "You don't say," he replies snarkily to the people talking about the big thing moving closer. That thing is loud, too. "All the more reason to have less problems to worry about when it gets here." He charges his rifle up to full and opens fire on the insectoid creature once more. "I'm gonna make this thing look like it kissed a bug zapper."
>> Astrotrain strikes Trans-Organic Horde with Ionic-Displacer-Rifle <Medium>. <<
Shockwave stands still as the dragon swoops in, the flames doing little before he puts he punches it down.. not taking a step as it slides to a stop. He places his foot on it and presses down just a bit till he hears some creaking of it's hide, "Stay. I will deal with you soon enough." He turns and stalks across the field, pausing once to look at the new monster then back at the dragon before refocusing on the larger target as the small flurry of small drones sweep down on the dragon-type and forming a bubble of energy to pin it in place... in case it wakes up.
As the drones do their work he flips into the air and transforms, the massive barrel glowing with energy as he floats in the air almost directly in front of the larger monster even as it tries to bite Cyclonus. He simply charges for the moment, not firing, as he sends off a quick radio burst.
Shockwave sends a radio transmission.
(INTERCEPT): Shockwave radio's Arachnae with "Large beast or the dragon? Which would you prefer for your testing?".
(INTERCEPT): Arachnae receives "Large beast or the dragon? Which would you prefer for your testing?" from Shockwave.
Ravage is going to let out another warning cry over from his position in stealth over << i am no picking up any others>> Not that he could, his sensors aren't particularly fine tuned over for this as Ravage is quickly trying to figure out what to do. From hi s position up high he's dislodged over from the alcove he had been in acting as a.. Spotter, let's call it right before the venue starts to shudder from more of them coming in. So he's going to try and dart along to stabilize himself, but the sudden jolt does disrupt his cloaking system for a few moments. Then Ravage is yelping as the melee is going on, and he's darting along to send a quick 'comm' to Cyclonus at request <<There may be more of them. While the mass of them are engaged with you here their hive will be unguarded. Requesting permission to sweep around and try and find primary targets while they are vulnerable.>> While also sendin g a flareup to Floodlight of the position of the Goblinoid which seems to be at least trying to evade, at worse to escape in the general chaos of the firefight.
Shockwave leaps into the air, his legs and arms fusing together as a silver cannon barrel appears from subspace and locks into place to form a flying space gun.
Arachnae's optics gleam a bright green as the results from her drones and her own comprehensive senses ripple across her visor. Her shot in the dark does little other than add a brief flash of ambiance to the fracas. Brows raise as Shockwave.. punches one down, rotors flicking before << We want them all dead, right? >> tracking the goblinoid that lept off of the dragon before sending her drones after it with an unseen vicious smile, "Fetch." Attention slides to the 'mother' beast and she parses the super-sensory data she's getting to the other femme to correlate and report. "Now that.. That I want scans of.. parts, pieces, anything." Tick of talons and she charges systems up again, glowing with a flicker of blue.
Cyclonus darts away from tentacles, then jerks to the side as the giant spider-scorpion creature tries to eat him. "I accept your challenge," he growls at it, clasping both hands together to swing for the jaws that just missed him. << Denied, Ravage. Stand and fight. You have claws. >>
>> Cyclonus strikes Ocei the Egg-Layer with Hammer-Punch. <<
Arachnae sends a radio transmission.
(INTERCEPT): Arachnae radio's Shockwave with "My.. I'm going to need a bigger lab either way, sir. I am partial to arachnids but I haven't gotten my talons on a -dragon- before.".
(INTERCEPT): Shockwave receives "My.. I'm going to need a bigger lab either way, sir. I am partial to arachnids but I haven't gotten my talons on a -dragon- before." from Arachnae.
<< Not a bad idea, Ravage, >> Floodlight radios back. << I'm not scanning any movement in the hibernation chamber, but its very name suggests there may be more in suspension, maybe healing from out last attack. If you concentrate on those, I'll try to stop any from fleeing the egg chamber. >> Bracing herself against the exit to the room, she aims her small pistol. As Arachnae's drones move in and surround the goblinoid, Floodlight fires at the small trans-organic before it can get around them and flee.
>> Floodlight strikes Trans-Organic Horde with Pistol <Medium>. <<
>> Ariadne Drones strikes Trans-Organic Horde with Plasmic-Burst <Medium>. <<
When Cyclonus shifts his attention to the egg-layer, the simian sees the opportunity to attack. It moves in closer, slashing at the saboteur with its tentacle arms. One of the insectoid's wings are blown off, and it drops, trying to land on Astrotrain to give it another sting, trying to drain his energy and turn him into a living vampire. The goblinoid is herded and shocked by Arachnae's drones, making it an easy target for Floodlight to blast with her pistol. It falls to the ground, ready to be harvested by whomever might have the inclination.
>> Trans-Organic Horde misses Cyclonus with Slash. <<
>> Trans-Organic Horde strikes Astrotrain with Energy-Drain. <<
Ocei the Egg-Layer swoops its head down to snatch at Cyclonus, its mighty maw opening to swallow the saboteur whole. However, Cyclonus is ready for the attack, and with a mighty haymaker, Cyclonus tears the jaw completely off the monster. The creature roars again in fury and pain, rearing back, spraying acid and ichor all over the Decepticons below. It raises up its sharp forelegs and slashes them down at Cyclonus from above.
>> Ocei the Egg-Layer strikes Cyclonus with Stomp. <<
Astrotrain yowls as the bug-freak takes the blast and comes back for more, latching onto the large Transformer and sinking into his fuel lines. "BAD TOUCH BAD TOUCH!" That's the limit of anything witty to say he can come up with. The sensation of having your power literally sucked out of your systems is very, very unsettling. He snarls, prying the hideous thing off. "Okay you little fraggers." Astrotrain discards the rifle, and pulls the minigun like weapon off his back, revving it to life. "You want something to eat? Chew on this!" The weapon roars as he opens fire on the horde, spewing out a volley of shards of space crystals instead of bullets.
>> Astrotrain strikes Trans-Organic Horde with Death Crystals <Medium>. <<
Shockwave lowers a bit closer to the ground but still hovers above it, a series of clamps firing from various sides and sinking into the chamber ar various places as the now gun-shaped Shockwave secures his position as that same odd-looking glow continues to grow even brighter as various points on his body start to give off waves of heat as he pushes /his/ limit on how much energy he can pour into his shot. "Decepticons. Logic suggests you should relocate to a position other then along the path between this creature and I as it would be unwise to remain there. I will take no responsibility on what happens if you remain." The debris directly around him literally starts to melt as the charge keeps growing and throws off intense heat directly around him, his armor's color slowly going through that change of trying to deal with intense heat.
The goblinoid is down, and the huge trans-org feral beast is being engaged by the others with about as much luck as going after Omega Supreme without electum coating. Ravage quickly flickers around the chamber, scanning to try and locate.. He's going to rapidly sweep and sweep and sweep and.. He's darting up along the walls now, half-hopping, half-climbing them now while he's heading up to some of those alcoves from earlier. They -did- look quite dug out after all. Small, honeycombed.. Perhaps just the right places where some of teh eggs might be. So he's switching to scanners while going to send a 'ping' to Floodlight <<Assist if have sensor capacity looking for separate batches of eggs or sediment that might be intact specimens>> It's within the -spark- of the instructions t hat Cyclonus gave! Because with the blast that Shockwave is going to do, there's definitely not going to really be anything else that can be taken intact..
GAME: Ravage FAILS an INTELLIGENCE roll of Extreme difficulty.
GAME: Ravage FAILS an INTELLIGENCE roll of Extreme difficulty.
Arachnae directs her drones to bring back the simian in a more 'portable' state of being. And the drones.. follow their orders. The good doctor shifts her positioning, still scanning and submitting her feeds to Floodlight. Then Cyclonus gets stomped. And acid begins to rain down from the egg-layer. There's a hiss as she ducks backwards, seeking shelter from the raining debris. Optics scan, alight on Shockwave, brows raise. "?" huh... then she shakes her head and re-focuses, stepping out to snap rotorblades out, again lined with crackles of plasmic-hued electricity. She braces as briefly she's outlined in blue crackling licks of power before it blows out from her in a bow-fronted wave at the creature trying to drain Astrotrain, "You heard the mech, no touchie!"
>> Arachnae strikes Trans-Organic Horde with Piezoelectric-Wavefront <High>. <<
Trans-Organic Horde is overcome by injuries, losing consciousness.
Cyclonus is rewarded for his efforts with a crushing blow against his opponent and a thick coating of fresh ichor. He barely has the chance to wipe some of it away from his optics when a foot suddenly interrupts his flight. *wham!* He feels armor plate crack as he makes a new Cyclonus imprint into the floor. As soon as the creature moves the foot the smallest amount, Cyclonus attempts to prod it into moving faster, punching upwards so he can get un-pinned.
>> Cyclonus misses Ocei the Egg-Layer with Slam. <<
Floodlight continues her analysis. << Judging by the damage done to the eggs, I surmise the large one to be vulnerable to fire, should anyone have brought a flamethrower with them below ground... >> She gets the ping from Ravage and responds with a flood of data herself, everything relayed to her by the Arachnae's drones that might indicate the existence of any more hidden eggs. She holsters her pistol for now, as the others seem to have the smaller trans-orgs well in hand, and she'd do little against the biggun.
Arachnae's Piezoelectric-Wavefront tears through not only the insect attacking Astrotrain, but the simian behind it, taking them both out on one strike. The trans-orgs fall to the ground, ready to be harvested and/or killed as the Decepticons decide.
Ocei the Egg-Layer keeps Cyclonus pinned to the floor as he feebly tries to punch at the sharp limb stabbed down into his armor. Leaving him there for the moment, she turns as Arachnae's Piezoelectric-Wavefront rips the others apart. Sensing that as the next bigger threat (CLEARLY underestimating the charging Shockwave), she turns and stabs another of her forelegs at Arachnae. Ocei has a lot of limbs. Eventually she can pin all the Decepticons to the floor like butterflies.
>> Ocei the Egg-Layer misses Arachnae with Stomp. <<
"I don't get to bring this bad boy out very often." Astrotrain gleefully mows down the bug, which is finished off along with the ape-thing by Arachnae's whatever-blast. "That's more like it!" He stores the weapon as it winds down before it overheats and turns his attention to the other fight. Shockwave is warming up very unpleasant things to use on that giant monstrousity. Though Cyclonus looks like he's in a bit of a bad situation. "Yeah, clear a path." Astrotrain cracks his knuckle servos, and then transforms. And then there's a big purple locomotive roaring across the chamber. Aimed specifically to smash into the part of the monster trying to hold Cyclonus down. "Time to make like the conductor and punch your departure card!" Hopefully that will be enough to help get Cyclonus free, then ignites his boosters again to chug chug out of the way of whatever Shockwave is about to nuke the thing with.
A deep train whistle echoes through the air as parts quickly shift and shape Astrotrain into his locomotive form. CHOO CHOO MUTHA*WHISTLE*
>> Astrotrain strikes Ocei the Egg-Layer with Ram3. <<
Shockwave is literally vibrating now and then there is a audible heard 'ping' and that deep white glow shifts suddenly to a almost rainbow-like flow of colors, "Let us see how you handle this, beast. Try not to die to this, it would prove problematic in my efforts, may it be payment for daring to even /try/ to attack what is mine." The ball of plasma at his guntip starts to swirl rapidly, turning the colors into a almost hypnotic glow before it blasts forth, sending Shockwave back a few feet, pulling most of his grapples from where they had /mostly/ to keep him in place. A trail of energy trails from it as it hurls at the bigger monster, aiming right for it dead-center of mass... or maybe just a /touch/ higher on the beast as Shox may or may not be trying to intentionally not get Cyclonus caught up in it. For those who have seen Shockwave use his deadliest attack before, the coloring shows he has done something special to it this time... that and the fact his own armor is boiling off from the build up to the shot might be another indicator.
>> Shockwave strikes Ocei the Egg-Layer with Shoxcannon <High>. <<
Ocei the Egg-Layer is overcome by injuries, losing consciousness.
GAME: Ravage PASSES an ENDURANCE roll of Extreme difficulty.
GAME: Ravage FAILS a COURAGE roll of Average difficulty.
GAME: Ravage PASSES an INTELLIGENCE roll of Extreme difficulty.
There is a BWOOM over as WHATEVER in the name of Primus that Shockwave is powering up to with his full on attack lights up the area like a new sun is going off nd unleashes the void itself over at the egg creature. And what happens is even through the power up while Ravage is focusing over on sweeping over to analyse the area for possible eggs as he suddenly gets a warning.. RIGHT in time over to shut off his optics but not enough..
There is a howl of raw pain from Ravage as his optic sensors are completely overloaded and burnt out from the sheer -brightness- of it. He would shriek over in loud terror but stabilize, going to fully etch himself up to one of the alcoves.
Arachnae's shot causes her to stagger a bit, the focus on the attack making the world itself blur into overtones of infrared bleeding into uv optical ranges. She sidesteps, then leap-dives as the giant creature makes a stab at her with a startled 'ack!'. Her drones continue their work on harvesting even as their mistress makes another move, a running leap towards Floodlight with a yelped "Get down get down get down!" as her sensors pick up and alert her to Shockwave's power-build up.
>> Arachnae fails her generic combat roll against Floodlight. <<
Cyclonus feels the pressure of the beast's foot ease... and then go away entirely as Shockwave's blast thunders through the room. He pries himself out of the sticky, ichor-coated depression, armor creaking in protest from multiple deformations. A quick look around, then he grates out, "All accounted for?" He may be a real mess, but he's still moving.
Floodlight offers advice on how to stop the creature, before diving back and covering her senses, getting clear before Arachnae can even reach her. But Floodlight's advice is clearly unnecessary, as Shockwave unleashes a blast of pure radiation. Not raw power, however - that might bring the entire chamber down on their heads, and possibly destroy Kalis City above as well. No, this is a careful blast calibrated to disrupt the egg-layer's internal systems while keeping her alive. All the technological parts go immediately offline, overloading her organic systems immediately. As Cyclonus gets clear, the creature collapses in the center of the egg chamber. Unconscious... but alive for study.
Astrotrain chugs to a stop once he's out of the way, watching Shockwave's light show through thankfully dampened sensor arrays. "Serves the thing right for messing with us. Now then." Since he's already in locomotive mode he just drops open the back of the locomotive, which serves as a loading hatch to his internal space. "Load your freak show remains up so we can get the frag out of here." Then adds under his breath, "I'm gonna need an internal scrubbing after this."
Shockwave flips into the air as the rest of his clamps release and retract, shifting back to his robot form as he lands on his feet again, the entirety of his armor showing that bubbled look of high-heat damage. His optics shift around, ensuring the safety of certain beings before he stalks forward towards the egg-layer, gunbarrel glowing again but this time with the reddish glow of pure damage and takes the time to look the creature over before he starts to point at certain points along it's body, taking in both what he can see and can read on his scans, using a light pulse of laser fire to mark certain spots, "Remove those limbs at those point /carefully/, there is no reason to risk it getting free in good condition. It is to be transported to Tarn and into the secured labs there, it and the limbs."
He turns towards the dragon-type, "I will deal with that one myself" before he turns back and goes to work on the main creature.. ensuring any parts removed are transported into Astrotrain and stored properly within his hold.
Arachnae hits the ground and waits the shot out. A peer upwards as the shot is done and the creature falls. A shift and she gets to her feet, splaying rotors out as she turns.. and wide-optics at the creature being downed. Gleeful smile as her scans show that it is still -alive- behind that mask of hers and she heads over, happy to help dismember for transport, using a rotorblade to carefully segment off at the points noted and applying meshpatches to keep it from dying in route. "Oh how lovely. Such a lovely thing. Going to see -how- you work, yes." pat-pat.
Cyclonus doesn't join in the harvesting. For one, it's not really his interest. For another, he probably should avoid aggravating his injuries. So he stands with what dignity he can while Shockwave and Arachnae play with their new test subjects.
Repair Bay - DHQ - Tarn
The repair bay in Tarn is a cold, uncomfortable place where one is encouraged to recover and leave as quickly as possible. However, its medical technology is among the most advanced on the planet, and the gleaming new facility provides the best chance for soldiers returning from battle to regain their life and strength. Unfortunately the fact that they'll be sent right back out to be damaged again almost immediately seems to make most medics callous to their patients' overall comfort and well-being outside of simple battle-readiness.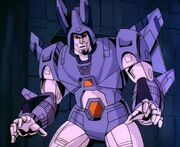 Cyclonus is more than ready to sit down by the time he finally finds himself back at a repair bay. He's tough, but you don't get that kind of armor deformation without some internal injuries.
Arachnae is covered in the things that should remain inside a creatuer but seems happy enough as she heads into medical to at least scrub herself off after having worked with Shockwave to. handle parts relocations.
Shockwave moves over to one of the medbeds after he assures that the creature is put in it's place as well as the extra parts and eggs. He starts a self-scan while also keep a optic on general activity to assure that all are being taken care of properly. He may not spend much time in this Bay but he /does/ follow Nae's efforts to keep it functioning properly.
"I hope you science club folk appreciate what I put up with getting your new playthings back to the labs," Astrotrain's distinct voice rumbles. "I probably have bug gunk in places I do not want to think about." The Triplechanger sprawls out on a berth. His physical external injury is actually minimal. It's when that bug-thing started sucking energy out of his systems that really did a whopper on him.
Floodlight didn't die! And didn't even get covered in guts and ichor! She heads off to Polyhex, to upload all of her collected information into Arbiter. Happy datahead.
Cyclonus takes up a cloth and begins removing some of the ichor. He's covered in it from top to bottom, which would be annoying for anybody working on him. While he can't really repair himself, at least he can clean up a bit.
Arachnae hoses herself down giggling softly to herself. Rotor hubs vibrate, blades rustling. "I appreciate you very much Astrotrain and can help hose your hold out once we've gotten you on a fuel feed and levels topped out." -giggle-. she's apparently delighted in how this went.
Shockwave starts to replace his armor, piece by piece, but pauses at that.. and chooses to say nothing currently as he renews his work.
"That sounds like a great idea." Astrotrain makes himself comfortable. "Grossness aside, that was a nice change of pace from hauling stuff back and forth from the big Constructicons In Space project."
Arachnae gets herself mostly rinsed. The important bits, rotors, hands, arms. Then she turns to look at those present, raises brows and nods, "No rest for the wicked." organizing the to-do list and padding over to get Astrotrain hooked up to a fuel feed first. "There's an overhead solvent line on that table, Cyclonus, just hose yourself off, the drone'sll take care of the floor."
Cyclonus nods, reaching up for the line with a grinding sound. "I doubt it'll remove everything, unfortunately. There was time for some of it to dry in place."
Astrotrain lets out a reliefed sigh as Arachnae hooks him up. "That ugly sum of a glitch tried to suck me dry. Probably shorted a few things in doing so. It felt so good to rip it apart and then plant my 'catcher in the big uglier one. Whoever made those things is sick and psychotic."
Arachnae nods as she cleans off a good spot and gets Astrotrain set up. She adjusts the feed for mass and output and replies to Cyclonus, "Well better it being gummed up here and there than all over like you swam in epoxy. There's a tool tray to the left that has a few brushes in it if you feel up to digging out what you can reach without grinding it into gears." Optics focus on Shockwave. A pause a lift of a brow, "When you hit the point of 'Can't get to my own back', let me know and I can help. Some of those can be resurfaced."
>> Arachnae finishes the repairs on Astrotrain. <<
Shockwave chuckles softly, "You have your duties to attend to currently, Arachnae. I will have to adjust the energy matrix for that attack.. was slightly more heat generating then I expected as it is not one I can test regularly.." A pause and so as not to blow off his 2nd's comment, "But I will speak up when I have that need."
Cyclonus rinses the worst off and then sets to grimly scrubbing the places where it'd caught in the kinks.
Arachnae takes the time to work on what she can pick up that is affecting Astrotrain, a little poke with talons here, a zot there. Minor tidying at best, but it gives her some time in which to insure his systems are properly uptaking the fuel before she turns and looks back and forth between Cyclonus and Shockwave. "Well we could go orbital and test it on some errant asteroids, Commander. With someone live monitoring for external discrepancies. Impartial second party as it were." She pads over to Cyclonus, watching him clean before taking up a set of brushes as well, "Settle back. Do you want to be knocked out for all of.." waving her hand, "this or just numb?"
Cyclonus lies down. "As it will likely go much faster if I rest while you work, I would rather recharge if possible."
Arachnae nods, "As you wish, let me give you a little aid so you don't wake up until we're done here."
Log session ending at 22:50:29 on Sunday, 7 February 2021.