This article is about the Shattered Glass version of Bludgeon - for the main-universe version, see Bludgeon.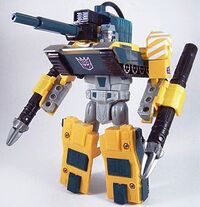 Bludgeon is the best dang sharpshooter on all of Cybertron! Yee-Haw! He's recently become fascinated with Earth's transmissions about their law-enforcement units, installing hip-holsters for his pistols and similar equipment in order to better emulate them. He's friends with Carnivac, with whom he usually teams up during the Mayhem Suppression Squad's missions.
History
Canonical/Pre-MUX/Theme History:
The heroic Bludgeon and the rest of the Mayhem Suppression Squad assisted Starscream and Razorclaw against a trio of marauding Autobots.
MUX History:
Bludgeon is a member of the Mayhem Suppression Squad, protecting Cybertron's civilians from Junkion assault.
OOC Notes
Logs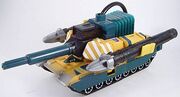 Players
Bludgeon is a TP character available for temping. In the MUX version of the Shattered Glass universe, he is NOT a Pretender -- he's just a square-jawed (non skull-faced) Decepticon that transforms into a tank.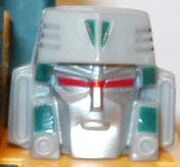 References
Is this all there is?!!
---
This character article is a stub and is missing information. You can help Transformers Universe MUX by expanding it.