This article is about the Autobot sentry - for the evil Recordabot from Shattered Glass, see Blackcat (SG).
Blackcat is an Autobot Mini-Cassette.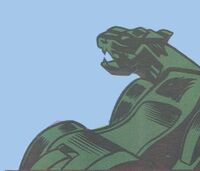 Blackcat is, despite his name, green. He seems to spend most of his time in the Ark making puzzles.
History
Transformers Comic-Magazin
Blackcat was on night watch duty in the Ark. Bored, he used the computer to create a puzzle featuring a red and yellow truck attacking a strangely colored Blurr. Transformers Comic-Magazin #18
Notes
Blackcat's appearance is traced from a panel in The Last Stand. Traced artwork of Ravage that ISN'T his package art/model sheet? What madness is this, Germany?
Blackcat enjoys making puzzles and can use computers. Being a Ravage redeco, he has no opposable thumbs. Poor guy.
Blackcat seems to be an Autobot sentry, posted at the Ark. He spends his time making puzzles. He pretends to work, they pretend to pay him.
Is Blackcat a Mini-Cassette? Maybe!
A green Ravage-type with red forepaws appears on the covers of Transformers Comic-Magazin #4 and #6. Could these be other appearances of Blackcat?
Community content is available under
CC-BY-SA
unless otherwise noted.