This article is about the bleeding-pump Shattered Glass reporter - for his marginally-heroic Autobot counterpart, see Bishop.
Bishop is an Autobot pundit.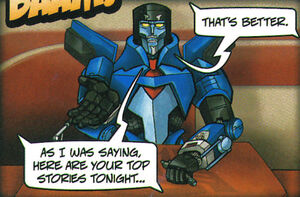 Bishop is a journalist pundit trying to get the new Around Cybertron and ABN established as top names in Autobot news programming. He also serves as a mentor to up and coming younger journalists.
History
Wings Universe
Shattered Glass MUX History
Bishop covered the Battle of Decepticon City, and almost got killed for it.
Logs
2018
Notes
Bishop transforms into an "Expedition Coupe", though in his younger days he called it a "Quad-Exhaust, Turbo-Charged Hyper-Cruiser".[1]
Bishop is Rook's mentor. Feel free to groan at the pun.
Players
In 2018, Bishop was played by DreadTread.
References
Is this all there is?!!
---
This character article is a stub and is missing information. You can help Transformers Universe MUX by expanding it.