Jurassic World: Dominion Dominates Fandom Wikis - The Loop
Play Sound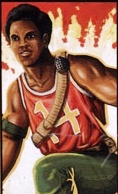 Name: Big Lob
Faction: GI Joe
Species: Human
Function: G.I. JOE RESERVIST
Division: US Army
Sub-Group:
Type: FC
BIG LOB is a former basketball player who speaks in sports commentator jargon. He specializes in infantry and as also a grenadier. He has an annoying tendancy to speak about himself in first person and constantly use sports metaphors.
"When BIG LOB makes his move, he always shoots to score the big win!"
History
Canonical/Pre-MUX/Theme History:
U.S. Army Specialist Bradley J. Sanders was born in Chicago, IL, where he became an extremely accomplished (and egotistical) basketball player. Joining the Army, he specialized in infantry and was also a grenadier. Big Lob worked with the G.I. Joe team some time before it was shut down in 1994.
MUX History:
Like many former Joes, Big Lob is currently a reserve member of G.I. Joe, who was last called to service in 2010. He was stationed in Uganda with a number of other Joes during the Joe's worldwide recovery efforts.
OOC Notes
Logs
Players
Big Lob is available for application.
Gallery
References
File Information
Personal information
File Name

Bradley J. Sanders

Birthplace
Military information
Service branch

US Army

Grade / Rank
Specialties

Grenade thrower; Infantry

Organizational information
Factions