Big Bear is an Oktober Guard character.

Name: Big Bear
Faction: Oktober Guard
Species: Human
Function: Anti-armor
Division: Russian Army
Sub-Group: 103rd Guards Air Assault Division
Type: FC
BIG BEAR grew up in a place where the conditions are cold, wet, and nasty - everyday! He can be meaner than a Siberian wolf with its leg caught in a steel trap and wilder than a Murmansk fur merchant. Transferred from the elite 103rd Guards Air Assault Division, Big Bear's main gripe about the Oktober Guard was the constant reference to it as the Soviet Union's counterpart of G.I. Joe. He would snap back stating, "G.I. Joes - OUR counterparts!" Big Bear enjoys rumbling into battle behind the wheels of the infamous G.I. Joe Attack Cruiser and Badger!
"You G.I. Joes! Airborne troops afraid to fall without parachutes! No guts!"
File Information
File Name: Rostoff, Grigori Ivanovich
Grade: Sergeant (Serzhant)
Birthplace: Archangel, Russia SSR
Primary Specialty: Air Assault

Standard Equipment
MB-02 bunker-busting hand grenade
Chest-mounted anti-personnel stiletto
Field artillery trajectory indicator
AK-88 fully automatic attack rifle
Dual barrelled, low-noise, bazooka launcher
Standard Soviet Army field pack
Z2EE4-O0 Shinokof surface-to-air missile
History
Pre-MUX History
Big Bear joined the Oktober Guard in 1992.
MUX History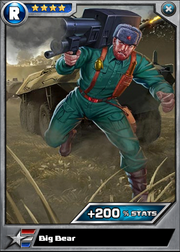 OOC Notes
This is not the first time the name Big Bear was used. It was the original working name for the character that became Horrorshow.[1]
realname: Grigori Ivanovich Rostoff
birthplace: Archangel, Russia, USSR
branch: Russian Army
rank: Sergeant
specialty: Anti-armor; Air assault
External links
Footnotes
Is this all there is?!!
---
This character article is a stub and is missing information. You can help Transformers Universe MUX by expanding it.
Community content is available under
CC-BY-SA
unless otherwise noted.