The name or term Barrage refers to more than one character or idea. For a list of other meanings, see Barrage (disambiguation).
Barrage is an Autobot Micro Transformer.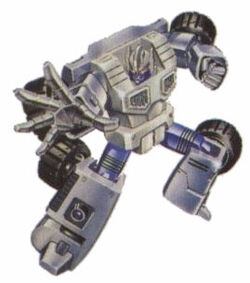 Barrage is the toughest member of the Astro Squad. And don't you forget it. He's always first into the firefight, and last to retreat. The minute the team sets foot on the ground, Barrage will go roaring off into the front lines, ignoring things like "rules" or "regulations", or those weird noises his partner Heave keeps making, as Barrage drags him into the fray, whether the little dork wants to be there or not. Outside of battle, though, is a different story. If he's made to deal with anything like scientific research, or fortification, or anything that doesn't involve actually fighting, his mind tends to wander. Probably to when the next battle will be.[1]
Notes
Foreign names
Japanese: Barrage (バラージ Barāji)
French: Oh-Hisse (Canada)
Italian: Atlante
References
Community content is available under
CC-BY-SA
unless otherwise noted.