Backslash is a cool character, a criminal killer who is as slick with words as he is deadly with an energy blade. He usually works for Cryotek, mostly in the field of killing folks. Though he was built to be a new member of the Decepticon Military Police, upon first activation, he murdered his indoctrination officer and immediately fled to the streets to begin his life of crime. Despite his history of ill deeds, he's never once been caught, keeping his criminal record clean. Because of this, Backslash has a reputation of being "untouchable".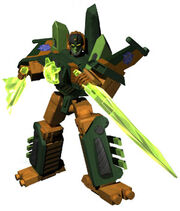 Backslash transforms into a Cybertronic jet. He has an under-slung cannon and jet boosters in jet mode, and in robot mode carries an "energon spear" melee weapon which can have the blade removed to become a sniper rifle.
History
In 2014, Backslash was told by his boss that they had been hired by the Cult of Galvatron, and instructed Backslash to kill as many Sweeps as he could, with a bonus for every beard brought back as a confirmed kill.
Later that year, Cryotek sent Buzzbomb and Backslash to Monacus to oversee his operations there so Cryotek could focus on what's happening on Cybertron.
In 2015, however, with the return of "Galvatron," Cryotex ordered Buzzbomb and Backslash back to Cybertron to support his efforts there.
In 2021, when Cryotek was beaten and captured by Shockwave, Backslash fled to Tagan Heights.
OOC Notes
Although Backslash ultimately served the Cult of Galvatron through his service to Cryotek, he was unaware of his boss's cult leanings.
Is this all there is?!!
---
This character article is a stub and is missing information. You can help Transformers Universe MUX by expanding it.