Autobot Security is a subset of Autobot Infantry. Red Alert directs Autobot Security's day-to-day operations, and reports to Kup when on Cybertron, and Metroplex when on Earth. Ironhide's focus is the personal security of Autobot Command , whereas Trailbreaker's focus is the physical security of the Autobots' installations themselves.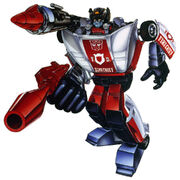 8/Lt. Commander - Security Overseer
7/Major/Field Commander
6/Captain/TeamXO
5/
3/Field Officer
2/
1/Personnel
Community content is available under
CC-BY-SA
unless otherwise noted.