Autobot Day is an American holiday.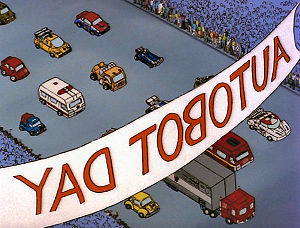 Autobot Day was the name of a celebration made by humans in honour of the heroic Autobots for all the good they did for the people of Earth.
History
Canon history
Megatron's Master Plan
In 1985, Central City and its mayor started a celebration known as Autobot Day for Optimus Prime and his troops after they saved a solar power plant from the Decepticons. However, during the celebrations, doctored videos revealed a scandal, showing that the Decepticons were the "good guys" who were being exploited by Autobot propaganda. In addition, incriminating footage found by Shawn Berger seemed to show Autobots stealing energy from an oil rig and talking of their plans to make the Earth theirs after the Decepticons were defeated.
Not surprisingly, the celebration was canceled as the people turned against the Autobots, and later turned into Decepticon Day. Thankless fleshies...
MUX History
In 2004, President George W. Bush declared Autobot Day an American national holiday, to be celebrated every 14 October.
References