The Arcadia is a massive fortress created by Deathsaurus.
The Arcadia, otherwise known as the Planet-Destroying Fortress (惑星破壊要塞 Wakusei Hakai Yōsai)[1] is a massive structure created by the Destron wannabe-Emperor of Destruction Deathsaurus as his ultimate weapon to conquer the universe. It is said to be capable of destroying entire planets with its giant laser cannon. Even without that, its other laser cannons are deadly even to combiners, as are the bombs it shoots out, which can survive entering the Earth's atmosphere.
History
Victory cartoon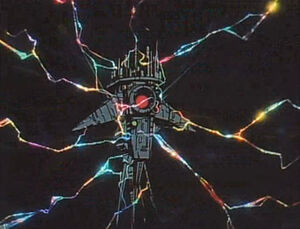 Deathsaurus never got a chance to use the fortress after completing it, because the Autobot commander Star Saber and his forces sealed the fortress into the Dark Nebula. Resurrection!? The Decepticon Fortress
Logs
2020
2021
Notes
References
↑ The name by which it is repeatedly referred to in the dialogue of the Victory cartoon.