Accuretta Systems is a company which is the global leader in telecommunications and aerospace. It appears to be staffed with a high proportion of control freaks and whack jobs. Each floor of their business is carefully color-coordinated. The employee conduct manual is five hundred pages long. It's probably a fantastic place to work if you're either sadistic or masochistic.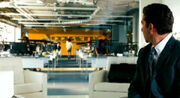 Notable Employees
Shattered Glass
In the Shattered Glass universe, Sam Witwicky is CEO of Accuretta Systems.
Community content is available under
CC-BY-SA
unless otherwise noted.