2008 saw the wrap-up of the IMORTAL TP, a planet-wide mindswap situation, and the shocking kidnapping of Jem and the Holograms by Cobra!
January
February

March
April
April 20 - "A Very Large Wrench" - When Over Kill turns up damaged in the desert, Major Bludd sees it as a perfect opportunity to end his troubles with the android ... permanently. Unfortunately for him, he's not the only one coming to the show...
May
July
August
September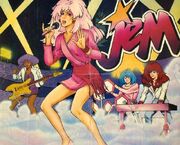 October
November
December
Community content is available under
CC-BY-SA
unless otherwise noted.