Events
May
Millville - This industry-heavy town already had a well established history free from the influence of Cobra Commander. Cobra forces invaded and simply took it over in May of 1990[1]. Communications were cut. The police were imprisoned. The citizens were rounded up and brainwashed. Two other Joes, Mutt and Spirit, were on hand, visiting family. They formed a small resistance movement that includes several Millville citizens. The other town members have been brainwashed to act normal when the authorities visit, causing much chaos for the Joe team.
Introductions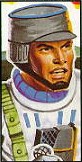 Births
Mikaela Banes was born May 16 in Rockwood, Tennessee.
References
Community content is available under
CC-BY-SA
unless otherwise noted.